Wilbur L. Ross Discusses Global Network Case on Bank of Ireland
In August 2011, Wilbur L. Ross Jr. YC '59, CEO and chairman of WL Ross & Co., took a risk and invested $1.6 billion, a 35% stake, in the Bank of Ireland.
Ross's private equity company focuses on bankrupt and distressed businesses. Ireland's economy was troubled in the wake of the financial crisis, with many banks being nationalized or liquidated, but he and his colleagues saw signs that it could recover. The country had a fully funded national pension fund, a favorable trade balance, more than $160 billion in American foreign direct investment, and a young, well-educated labor force.
This was a strong opportunity for investment, Ross said at the Yale School of Management's Business + Society conference, which marked the opening of the school's new Edward P. Evans Hall, on January 11. Ross's investment is the subject of a new raw case study developed by three members of the Global Network for Advanced Management: Yale SOM, University College Dublin's Michael Smurfit Graduate School of Business, and IE Business School. A panel discussion at the conference focused on the case and gave students and faculty the chance to ask questions of the story's main protagonist.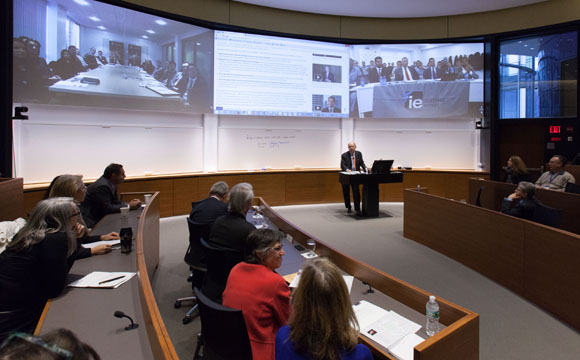 "The population had already proven that they were willing to put up with a lot of problems, a lot of cutbacks, by government without riots, without car bombs, without nationwide strikes," Ross said, explaining some of the analysis that went into his investment decision. "They had already shown that the sociology of Ireland was clearly different than that of the Mediterranean countries. Those were the big-picture things we looked at." The investment became the largest private equity deal for a European bank.
Students from IE and Smurfit participated in the conversation via video conference, asking Ross questions about whether he would make a similar investment in a country like Spain and his approach to investing.
"We have a mantra that the only stupid question is the one you forgot to ask," Ross said. "That's the question that will kill you. If you've thought through what the problems are, then you should be able to figure out, 'can I live with this?' and 'do I have enough margin for error?'"
Ciarán Ó'hÓgartaigh, the dean at Smurfit, said that the case highlighted the importance of the Global Network in providing students with a broad perspective on the kinds of management challenges they will face in their careers. "I think it's particularly interesting to get perspectives from colleagues here [at Yale] and at IE in Madrid to think about, are there are other ways to look at the world here?" Ó'hÓgartaigh said. "Are there particularly interesting perspectives that we're missing because we're in the middle of it?"
Ross said that he was impressed by the raw case approach, which, in contrast to a traditional printed case study, provides students with a wide range of data, including real-world source materials and video interviews with key players, and asks them to sift through it, determine what is relevant, and create an analysis.
"I was very impressed with the raw case," Ross said, noting that his transactions had been the subject of several traditional case studies. "This was far better prepared and far closer to real life," Ross said. "I congratulate the school for the philosophy of the raw case and in this particular instance, for the execution of it."

Watch the discussion.